Presenting Black Balloon & Olivia Hainaut
People often forget that
Belgian fashion
belongs in the same category as 'the big boys', we have names like Maison Martin Margiela, Dries Van Noten, etc. Today I'm going to show you some
'new' young Belgian designers
, that definitely belong in that row. In Paris (see
here
,
here
,
here
and
here
) we visited the Belgian showroom. It was arranged by the FFI (Flanders Fashion Institute) and showed the collections, represented by their designers. The purpose was to
introduce
the brands to the international press.
Let's start with
Black Balloon
This Ghent-based label is just 2 years old and founded by the ladies Sarah Bos and Cleo Baele.
The men and woman-collections of this duo combine female and tough elements, simply yet edgy, with an eye for detail and refinement, "nouveau chic" as they like to call it.
We met the friendly Sarah Bos in Paris and she explained to us that their latest collection was inspired on
daltonism
(color-blindness) with a little touch of the Dalton brothers. Which results in a timeless collection
for outlaws
of this generation. The main colour was black with a touch of silver and yellow.
However the accessories caught our eyes immediately.
Rough
materials like leather and
fragile
embroided feathers looked like they where
dipped
in silver, while remarkably keeping the rough and fragile look. I can easily imagine it like dipping in paint, but it turned out to be a quit complicated process.
For now Black Balloon is sold in their
shop
(Onderbergen 39, Ghent), their
webshop
or on the online gathering for young designers
De Invasie
(+
de invasie van Gent
op 31/03 - 01/04, in Gent)
And by the way, check out their Magnetic Wing Broche! You can wear it as a collar or a broche, wherever you like it with the help of 2 strong magnetic points. Looks amazing if you ask me. :)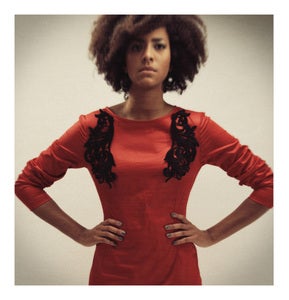 Followed by
Olivia Hainaut
I'm gonna be honest, it wasn't really my taste. I have no idea what Ruby's opinion is but the clothes seemed a bit too lady chic, that-isn't-really-chic to me. In dutch we call it ordinair, which isn't a compliment :/ But -yes there is a but- , I have tons of respect for the technique. She gives a whole new look to leather by using several weaving techniques. But result was rather fragile, I would constantly be afraid to break it.
On the other hand, there was the jewellery again. And those were great!
Not very original I'm afraid, but gold, snakes and minerals everywhere. Hello instant glamour feeling!
Unfortunately I forgot what the collection was about (bye, bye journalistic career), but I think her inspiration comes from ancient movies and glamour.
I (Ruby) wanted to add more details to this collection, but unfortunately I couldn't found her collection in the magazine I had nor could I find more information on the internet. Siel has done a great job in explaining everything well.